Version V3.1 pour 4.13 et HSFX7 - IES3 Summer Winter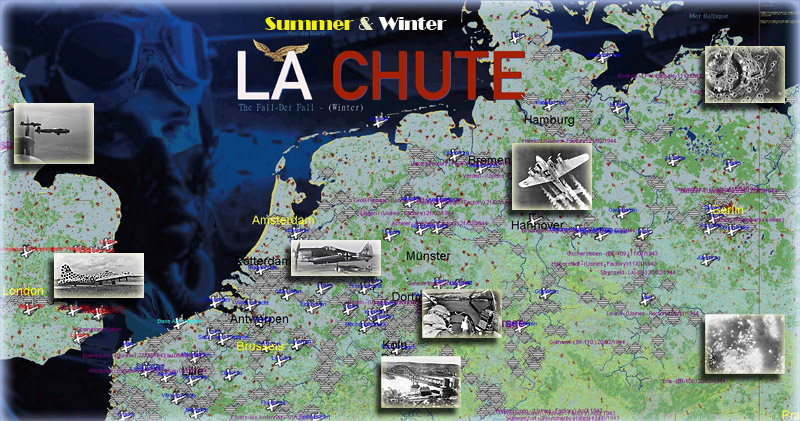 Bonjour voila nouvelle version de la map, depuis le temps j'ai eu beaucoup de mal
a me remettre dessus ayant oublié pas mal de choses, Cette version à demandée 4 mois intenses.
Il n'y aura plus de mise à jour pour UP2 et 3 trop de travail, mais en prenant la version 4.13
en adaptant la bonne présentation des répertoires cela devrait fonctionner, il y a tous les objets.
La Chute V 3.0
Révisions :
80 bases changement des textures plus ajout de bâtiments
Population de villages ajoutée autour des bases.
Toutes bases revues pour le nombre d'objets runway et taxiway gain énorme sur l'actors.static
- Pennemunde revu Zone de V1 et divers.
- Gares de triage de Hamm et autres gares
- Mise en forme du port de Hambourg pour de la haute altitude
- Augmentation de la texture neige dans la Ruhr et parties montagneuses.
Ajouts :
3 nouvelles bases historiques :
- Gatow et Staaken (Berlin)
- Saint-Hubert (Ardennes) - population villages des Ardennes de Couvin à Houffalize (sur 2 rangées) plus quelques routes.
- 2 bases aéronavales : Ostende et Félixstow
- Création Port de Douvres plus radars
- Possibilité de placer des D.C.A (spécifiques) sur le barrage de le Mohene, tir et statiques
- Pour les Créateurs de missions le  V1 sur sa rampe
-- Artillerie : Flak38 20mm (barrage Mohne)
-- Objets fixes : Flak38 20mm (barrage Mohne) et V-1+ramp (stationnary)
-- Pilote Noir 332nd Fighter Group - Red Tails  (Red_Tails.bmp)
Modifications :
- Changement ciel et couleur de l'eau - suppression du fichier xxxxTL.tga (qui causait problème à de nombreuses personnes)
- Map winter 99,99% des objets en neige.
DIVERS :
- Testé sur plusieurs PC : Nvidia et ATI et chipset graphique C.M
- Contrôlé avec Universal Static
Pour la version HSFX V2.1 vérifiez vos missions renommer le nom de la map de votre fichier .mis  de :
- Winter : WF_La_Chute_Spit973_Wi en WF_La_Chute_Spit973_Wi_V3
- Summer : WF_La_Chute_Spit973 en WF_La_Chute_Spit973_V3
Merci de faire remonter les problèmes et vos besoins dans la mesure du possible.
Je pense qu'il est possible avec la version V3 de la 4.13 de faire monter la map
dans de nombreuses versions tous les objets sont présents.
Grand merci à
EPERVIER
pour l'aide sur la DCA du barrage et la création du V1 sur rampe.
Ainsi qu'à
ARNORITTER
pour les tests de chargements et
PA-DORE
pour l'hébergement.
Bon vol.
Liens de téléchargement :
JSGME
HSFX7
http://www.derrierloisirs.fr/il2/bdd2012/cartes/LA_CHUTE_Winter_hsfx7_V3.rar
http://www.derrierloisirs.fr/il2/bdd2012/cartes/LA_CHUTE_Summer_hsfx7_V3.rar
4.13
http://www.derrierloisirs.fr/il2/bdd2012/cartes/_SAS_La_Chute_Winter_413_V3.rar
http://www.derrierloisirs.fr/il2/bdd2012/cartes/_SAS_La_Chute_summer_413_V3.rar
------------------------------------------------------------------------------------------
Hello,
I am happy to present a new version of my map. It took me some time to get to it again, making this version took
about 4 month. I won't update the map for UP2 or 3, that would be too much work.
If you are using IL-2 4.13, there are plenty of objects anyways.
The Fall V 3.0
Map versions:
There are both a summer and a winter map available for 4.13 and HSFX 7
Improvements and Additions:
- New textures for 80 airfields.
- Populated villages around airbases.
- Added a lot of runway and taxiway objects at the airfields.
- Reworked V1 bases at Peenemünde.
- Added marshalling yards at Hamm and some others.
- Hamburg harbour terrain improvements.
- More use of snowy textures at the Ruhr area and other mountains.
- Added three new historical bases: Gatow and Staaken around Berlin and Saint-Hubert in the Ardennes.
- The villages of Couvin and Houffalize have been populated, two railroad tracks and some roads have been added
between them.
- Added two seaplane bases: Ostende and Felixstowe.
- Added the dover harbour and radar stations.
- Added special AA guns, which can be placed on the möhne dam. (Flak 38 20mm (barrage Mohne)
- Added a stationary object depicting a V1 rocket on a launch ramp. (V1 + ramp (stationary))
- Changed the sky and the water colour
- Removed xxxxTL.tga because it caused trouble for many users.
- Folder Pilots : Black Pilot 332nd Fighter Group - Red Tails  (Red_Tails.bmp)
Tests the map underwent:
- The map was tested on multiple systems with a onboard graphics chip, a Nvidia and an ATI graphis card.
- I controlled the map with the universal static.ini checker
HSFX users have to check the mission files using this map. The load.ini lines changed from:
WF_La_Chute_Spit973_Wi to WF_La_Chute_Spit973_Wi_V3
for the winter version
and from
WF_La_Chute_Spit973 to WF_La_Chute_Spit973_V3
for the summer version.
I am thankful for error reports and i am open for suggestions.
The V3 version of the map should be useable in many different game versions, all needed abjects are already in the game.
Thanks to
EPERVIER
for the help with the möhne anti air object and the creation of the V1 rocket ond ramp object.
Thanks to
ARNORITTER
for testing and translation.
Thanks
PA-DORE
for download web site.
Happy flying
Links download :
JSGME
HSFX7
http://www.derrierloisirs.fr/il2/bdd2012/cartes/LA_CHUTE_Winter_hsfx7_V3.rar
http://www.derrierloisirs.fr/il2/bdd2012/cartes/LA_CHUTE_Summer_hsfx7_V3.rar
4.13
http://www.derrierloisirs.fr/il2/bdd2012/cartes/_SAS_La_Chute_Winter_413_V3.rar
http://www.derrierloisirs.fr/il2/bdd2012/cartes/_SAS_La_Chute_summer_413_V3.rar
MOHNE dca sur barrage
GATOW (Berlin)

STAAKEN (Berlin)
Radar Douvres
Saint-Hubert
V14 sur rampe
Red Tails